We offer several free webinar topics to help you boost your recruiting and hiring IQ. Take a look at our upcoming schedule and plan to join us online! If none work for you, please check back. We update our sessions and schedules regularly. We also record these webinars for later viewing whenever convenient.
ABOUT THE PRESENTER – Ron Selewach, CEO
Ron Selewach has spent 50 years in HR, as both a corporate leader and as an entrepreneur offering solutions to enhance the effectiveness and efficiency of the Human Resource function, especially the talent acquisition function. With a degree in Industrial and Labor Relations from Cornell University, Ron has always believed that HR was not just an overhead function, but could make real contributions to the bottom line. He now focuses on Talent Acquisition solutions to increase the efficiency and effectiveness of the hiring process while conforming to Industrial and Organization Psychology best practices and anti-discrimination principles. Their flagship service is HRMC Acclaimsm, which automates much of the "busy work" involved in talent acquisition, and improves and expedites both the candidate experience as well as the employer experience.
Artificial Intelligence – Friend or Foe to Today's Hiring Professionals?
Unless you've been living "off the grid" for the last year, you've no doubt been hearing about artificial intelligence (A.I.), and how it's beginning to transform our lives at home and work.  Well… it's true.  It's not a fad or buzzword.  From Alexa, to Pandora's "Musical DNA", to Facebook's facial recognition, it's the real deal… and it WILL absolutely impact your role as an HR Professional in the coming years.
But the question that's on the minds of many HR Pros is whether that impact will be positive or negative.  Will A.I. REALLY help my organization identify and hire better quality people? Will A.I. someday replace the need for human interaction?  Will it change or even replace my job?  These are all valid questions, and if you're asking them, you're not alone.
In this 30-minute session, CEO of HRMC, Ron Selewach, will discuss the growing role that A.I. is playing in the world of hiring and how it's not only impacting organizations, but also Human Resources Professionals who manage the staffing function.  You won't want to miss this timely session!
All webinar participants will receive a free copy of Ron's recently published article, Smart Sourcing: Using A.I. to Attract Talent.
Upcoming Schedule
This webinar will be scheduled again soon. Please check back!
The Next Evolution in Recruiting: Sourcing and Evaluating People First, Not Resumes
If you're looking to get more out of your hiring process, this webinar is for you!
In this session, HRMC CEO / Founder, Ron Selewach will examine the root cause of why current sourcing methods yield less than satisfactory results, and why current evaluation methods often fall short of the need for speed, and accuracy. Not one to point out problems without offering cures, HRMC will also present solutions to these dilemmas.  The answers will surprise you… and you may not be doing what you think you're doing.
In this webinar we will discuss the concept of recruiting the applicant and not the resume.  This concept finds its roots in technology- and incorporates minimum qualification screening, behavioral interviewing, and conducting and interpreting assessments into one singular process.  At the heart of the matter is finding a more suitable place for resume review, which the concept is counter to most conventional wisdom.
During this webinar you will learn:
Why it's difficult to recruit passive candidates, and high-performing candidates in general, even with tools like social networking, and what to do about it.
Common mistakes most of us make when evaluating candidates, how it hurts results, and what to do about it.
The cost benefit of acquiring top candidates faster.
What a lean process for selection looks like, and how to create one.
Upcoming Schedule
This webinar will be scheduled again soon. Please check back!
Automate Before You Outsource: Extend Your Legacy ATS to Handle Today's Labor Challenges
The use of Applicant Tracking Systems (ATSs) for talent acquisition is widespread and, perhaps most important, would be considered mature technology by most standards. Which would explain why most legacy ATSs can't keep up with or meet current talent acquisition challenges—from handling high- volume hiring to incorporating assessments and routine correspondence and texting.
The Challenge: Many companies turn to outsourcing these critical functions as their only option. But there's a more cost effective, efficient, and politically sensible way to handle the entire process—automate it!
This Webinar will explore how you can seamlessly integrate key functions—from job analysis, initial interview, assessments, scheduling, correspondence, to background checks—using automation to extend the functionality of your existing ATS and transform it into full-service talent acquisition platform.
Join us for this free 45-minute webinar hosted by Ron Selewach, founder and CEO of HRMC, to learn how to maximize the value of your existing ATS.
Upcoming Schedule
This webinar will be scheduled again soon. Please check back!
Taking the Robot out of the Human
Studies have shown that as professionals, we get to work at our skill level only 20% of the time; the other 80% is taken up by routine, and repetitive "busy work." There has been much conversation around fears of artificial intelligence and machine learning taking over the jobs of so many workers. There is little doubt that our jobs will change due to AI, but this webinar looks at the issue from a different perspective – how much of professional/administrator time is spent performing near-robotic activities.
Compensation, rewards, career development and so on all focus on the contributions made by each individual to the Company's profitability and growth. Sure, routine, repetitive "busy work" must be completed, but it is holding back being able to perform at one's competency level more of the time. This webinar will look at what constitutes the 80% busy work and what can be done to lessen, eliminate, or transfer these activities distracting professionals from spending a greater portion of their time working on higher value-add activities and projects.
Artificial Intelligence used for Intelligent Workflow Automation works 24/7/365 without complaint, is highly efficient, is always "on", never complains, never is absent, doesn't want a vacation or promotion or raise, and is not out after your job – what a great digital teammate!
Upcoming Schedule
This webinar will be scheduled again soon. Please check back!
How to Design Recruiting Processes to Run Like Manufacturing Processes
If you are looking to streamline your hiring process for your manufacturing facility, this webinar is specifically created for you!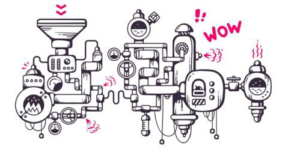 Think of a full-blown, 5-axis machining center with an automatic feeder. You load up the conveyor with raw parts (castings, etc), turn out the lights and go home. When you come in in the morning there are your finished parts, all done for you. A tremendous return on investment!
What if your hiring process could perform in the same way? IT CAN!
In this webinar, we will discuss, an innovative system that…
Helps attract applicants by offering an immediate interview/no resume required
Thoroughly vets and processes your applicants
Quickly identifies the best candidates
Continually monitors Quality of Hire in real time
Automatically schedules top talent for interviews
Think of this process in the same way as a machining center; you load up the conveyor (actually applicants load themselves), the "machine" is already programmed, knows which steps to take and when, has all the tools it needs, knows if and when to do each step, making its own decisions (based on your requirements and knowledge) as to what to do next based on the ability and fit of each candidate, and what comes out is finished "product" – thoroughly vetted candidates ready for final inspection (final interview).
We look forward to seeing you online as we share details about this process and how it can take your hiring process to the next level!
Upcoming Schedule
This webinar will be scheduled again soon. Please check back!
OVER 54 MILLION CANDIDATES HAVE BEEN PROCESSED WITH ACCLAIM
Isn't it time you had a look?