Gain Access to our White Paper Library Today.
As part of our ongoing effort to innovate, we are continually researching the market and hiring trends. We share those learnings and our thoughts via our white papers. Click on the one you're interested in, tell us a little about yourself, and we'll send you an email with links to access our full library!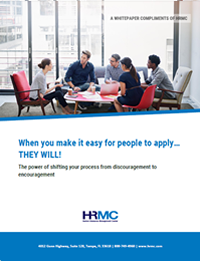 Frustrated Hiring Manager to HR Leader – "There are over 150 million workers in the labor force; are you trying to tell me that there's not one of 'em that can do this job?" Our "Great Recession" has put a bonanza of talent on the market that would not otherwise be looking for a job. Talented, stable workers with very good skills. And yet we sometimes still have difficulty finding a good applicant for some jobs.
Access the White Papers.
We'll send a link to your inbox shortly!
OVER 54 MILLION CANDIDATES HAVE BEEN PROCESSED WITH ACCLAIM
Isn't it time you had a look?